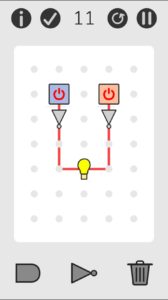 ---
Illumination is a new, educational puzzle game by Vanadium Games! Construct logic circuits using a mixture of wires and gates to illuminate the correct bulbs when the corresponding buttons are pressed. Learn how to use NOT and AND gates effectively to solve the task at hand.
Levels start easy but the difficulty quickly increases, teaching the fundamentals of Boolean circuits.
What are you waiting for? Play Illumination now!
Credits
Music: Bike Sharing to Paradise by Dan Bodan – https://danbodan.bandcamp.com/